INSPECTION SPECIAL Tire Rotation and Brake Inspection
FREE Complete Inspection of the Front and Rear Brakes Rotation of the Tires.
MUST PRESENT COUPON
PRIOR TO SERVICE.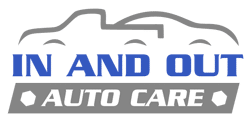 OIL CHANGE NEIGHBORHOOD SPECIAL New Customer Special - Lube and Oil Change Only $29.95
Full Synthetic $39.95
Includes up to 5 quarts of Synthetic Blend Oil and Filter Additional charges for Full Synthetic or Diesel Oil Changes First Time Visit Only
Locals Only Please - Have ID Ready. Applies to new customers only.
MUST PRESENT COUPON
PRIOR TO SERVICE.
Expires: 7/31/2022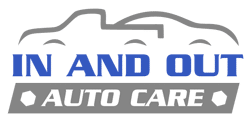 Auto Repair Coupons, Rebates & Offers


Check our coupons page and follow our tips below to help you save money on the cost of car repairs and maintenance.
Schedule a regular oil change at In and Out Auto Care in Gladstone. It is the key to easy car maintenance and eliminating expensive engine repairs down the road.
Pay attention to the "service light" warnings on your dashboard. Responding quickly to a service light is often easy and affordable but ignoring a service light can greatly increase the cost of future car repairs.
Get to know your owner's manual. It is time well spent. The owner's manual contains valuable tips for keeping the cost of car maintenance and service affordable.
Discuss the details of needed auto repairs with your mechanic.
Call In and Out Auto Care in Gladstone at 503-786-0700 for Coupons, Rebates, and Offers and keep your auto repair costs low!
Reviews
Fantastic from start to finish! Brian is excellent! Great work, great prices, right down the street too! They are our go-to for our cars!! Oh, and Fox Towing is amazing if you need them!!

G.T. Harris, 03/17/2022

Always have good service and great prices

Scott Johnson, 08/07/2021

Had our A/C compressor and rear brakes replaced and they were super informative as to what they were going to be doing to our car. Their estimate was cheaper than the dealers and about 4x faster turnaround as well! We will be coming back for sure!

Colin Virshup, 05/15/2021